Halesworth is an old Suffolk town whose market was granted by King Henry III in 1223. 
The Gallery occupies what used to be the town's almshouses, lying alongside St Mary's churchyard. It is a beautiful building erected c 1686 with a legacy from benefactor Mr Cary.
The Halesworth Art Gallery Association was founded in 1966 when the building was converted into extensive gallery space, and it has held an annual range of exhibitions since then.
The objective was, and still is, 'to exhibit modern painting and sculpture of the highest possible standard on a non-profit making basis and for the enjoyment of all.'  Early exhibitors included John Constable (a descendant), Elisabeth Frink, Mary Fedden, Felix Topolski, Mary Potter, Josef Hermann and Margaret Mellis.
The Gallery shows mainly the work of those artists who have a connection with East Anglia.  Selection of artists for exhibition takes place in January each year following advertisements in the national art press.
 Email [email protected] for submission details.
The gallery is run by a Committee made up of artists and local people interested in Fine Art, and the shows are supervised by volunteers.
Vital support is also given by 'Friends of the Gallery' who pay a small annual subscription, for which they receive a specially commissioned artwork and are invited to previews.
   Email [email protected] for more details.
The Halesworth Gallery
Steeple End
Halesworth
Suffolk
IP19 8LL
Gallery Tel: 01986 873064
–
Opening Hours:
Weekdays and Saturdays 11am – 5pm
Sundays 2 – 4pm
Admission free
All details of our forthcoming exhibitions can be found on our website
www.halesworthgallery.co.uk
–
Upcoming Exhibitions:
1 to 19 July
Preview Party 30 June
JOSEPH DALTON HOOKER:
A LEGACY OF BEAUTY
From Halesworth to the Himalayas
Paintings by AMICUS BOTANICUS with CHELSEA SCHOOL of BOTANICAL ART
Halesworth is the birthplace of Sir Joseph Dalton Hooker and we will be celebrating the bicentenary of his birth with exhibitions, trails, talks and events. The Halesworth Gallery has invited CSBA Students and members of Amicus Botanicus (Alumni of CSBA) to exhibit botanical paintings of plant species relating to and named after Hooker.
The process of creating a botanical painting will be shown through the work of CSBA students. Students of the CSBA will be in the gallery, demonstrating the art of botanical painting, on the opening weekend and then on every Wednesday, Friday and Saturday throughout the exhibition.
Find out more about the CSBA on their website at chelseaschoolofbotanicalart.co.uk
Opening weekend 1 & 2 July: Elaine Searle and Michele Riseley
Elaine is Course Director at CSBA. She exhibits internationally with work in the Highgrove Florilegium, the permanent collection of the Hunt Institute (USA), the Garden Museum London and private collections around the world. Awards include RHS Silver Gilt medal in 2008, the Talas award at the American Society of Botanical Artists′ Annual International Exhbition 2013 and People′s Choice Award at the ASBA Annual Meeting 2015.
Elaine Searle′s website Botanical‒The Slow and Mindful Art
Sally Pond Friday 14 July
Sally was awarded her diploma in Botanical Art & Illustration in 2011 with a Distinction. Since then she has regularly exhibited and runs workshops at Sarum College, Salisbury Cathederal and the Artsmartschool in Beaconsfield. Awards for her work include 3 RHS Silver-Gilt Medals and Certificates of Botanical Merit from the Society of Botanical Artists′ annual exhibitions in Westminster.
Penny Price Wednesday 5 July
Penny graduated from the school with a Distinction in 2013. She exhibits in the UK, is a member of three Florilegium Societies: Hampton Court, Chelsea Physic Garden and Sydney Botanic Garden. Her work was awarded an RHS Silver Gilt medal in 2014. Penny teaches part-time at CSBA and the Cambridge University Botanic Gardens.
Penny's work can be seen on her website.
Christine Battle Saturday 15th July
After graduating from the school with a Credit in 2009, Christine was awarded an RHS Gold Medal for her paintings in 2010. She has exhibited in the UK and USA for the Hunt Institute of Botanical Documentation and the ASBA (her work being singled out for an Honourable Mention). She is a member of the Chelsea Physic Garden Florilegium Society and regularly illustrates plates for Curtis′ Botanical Magazine.
Christine Battle's work can be seen on her website.
Pearl Bostock Wednesday 12th July
Graduating from the school with a Merit, Pearl went on to be the founder member and chairman of the Florilegium Society at Bedgebury National Pinetum, Kent ‒ regarded as having the world′s most complete collection of temperate conifers. As well as her work for Bedgebury, Pearl has also exhibited in Buenos Aires and the UK.
22 July to 9 August
Preview Party 21 July
Gerald will be "off the wall" with a display of witty postcards and small works. Rebecca will be making site specific sculptures especially for the gallery and Martin will be showing recent landscape paintings and drawings.
Gerald Nason
Martin Coe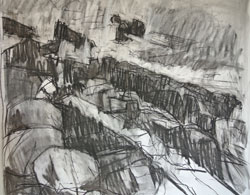 Rebecca Greathead
4 August 7pm
Poetry Evening
Gerald Nason, Naomi Jaffa, Dean Parkin
Three local poets not to be missed.
12 to 30 August
Preview Party 11 August
Simon makes elegant wood sculptures and relief works. Marianne will be showing collage sculptures and paintings and Lucy will be exhibiting new paintings inspired by landscape, paint and mark-making.
Simon Turner
Marianne Koby Johnson
Lucy Bell
2 to 20 September
Open Show
Handing in day 30 August
Preview Party 1 September
Entry form on the website in May and in the gallery.
23 September to 24 September
Earth and Fire
Anglian Potters
Preview Party Friday 22 September
Special selling show of a wide range of ceramics by skilled potters.
–
Overview: Halesworth Galley 17
–
Let us promote your editorials on IceniPost.
We have had over 25,000,000 page views of our content: Online Advertising
SaveSave
SaveSaveSaveSave
SaveSave
You may also like this